With help from Riley, this brother and sister duo beat cancer together.

By Riley Blogger
June 12, 2022
On a sun-drenched late summer afternoon, 8-year-old Samantha Brown and her 4-year-old brother Miles play in their backyard. It is a vision that provides great comfort and relief for parents Jeff Brown and Melissa January. Two years ago, each child was diagnosed with cancer just months apart.
"It was devastating," says Jeff, describing the stark difference between then and now. "There were so many unknowns at the time we found out."
These days, Samantha devotes her free time to gymnastics, tumbling, cheerleading, and Girl Scouts. Miles is working on his baseball swing for tee-ball and learning to play golf. Both enjoy playing with Scout, the family's golden retriever puppy.
But on August 23, 2019, when Samantha was 6 years old, normal childhood pursuits were interrupted.
What started as a low-grade fever and fatigue led to an appointment with Samantha's doctor. That's when physicians discovered a mass lodged under her ribcage. Samantha's father says an MRI revealed a rare form of kidney cancer, called Wilms tumor. "There was a 2 1/2-pound tumor on her left kidney," says Jeff. "That is where we began our first journey with Riley."
Surgeons had to remove Samantha's kidney, and as she underwent lengthy chemotherapy treatment at Riley Hospital for Children at Indiana University Health, the family was dealt a second blow. In December of 2019, Miles was 2 years old when he went in for a checkup. Doctors would diagnose Burkitt's leukemia, an aggressive cancer that left multiple tumors on Miles' kidneys and liver. "It was a second gut punch," says Jeff.
"Riley is a big part of our family"

–Jeff Brown

Riley Pediatric Oncologist Michael Ferguson, M.D., led both children's care. Miles spent 54 straight days at Riley Hospital and underwent six months of chemotherapy. Samantha's treatment also included 20 rounds of chemotherapy. Today, both Samantha and Miles are in remission. In July 2021, the Brown family held a bell-ringing ceremony to mark both Samantha and Miles as cancer-free. They ordered a custom-made bell for the occasion.
"Riley is a big part of our family," says Jeff. "We're big supporters of Riley and think everyone else should be too. You never know when you're going to need them and they're there for you, and everyone's there to support you."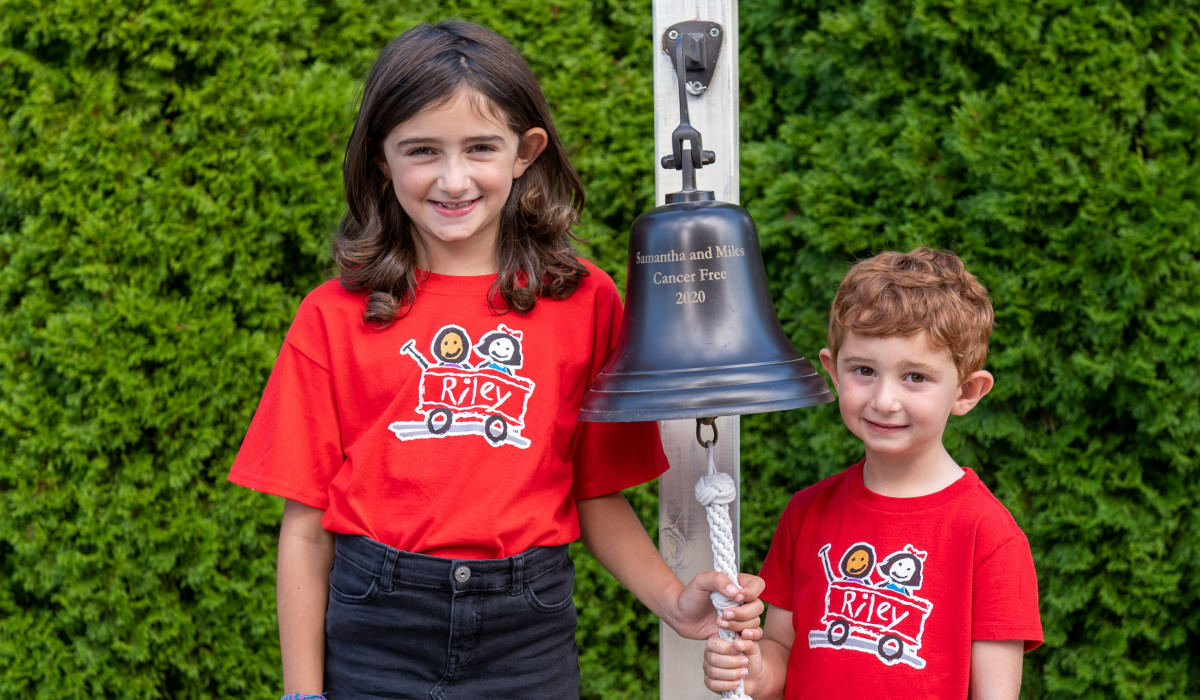 Riley Blogger
Riley Children's Foundation
The Riley Blog is written and/or edited by members of the Riley Children's Foundation communications team.

Help us, help more kids like Samantha and Miles
Donate Now
Related Stories
June 14, 2022
Campers from across the state and beyond are returning to Camp Riley this summer, an empowering environment tailored to their individual needs.